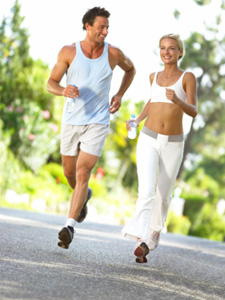 Whether you want to shed that winter weight or simply feel more energized, fitness options in Barrie are plentiful. In addition to staying fit at the Allandale Recreational Centre, the Barrie YMCA and the East Bayfield Recreation Centre, you can experience a waterfront workout.
Get Fit for Free
Now's the ideal time to get outside and enjoy the fresh air, so we encourage you to check out the town's six fitness circuit stations, the funds for which were donated by numerous area businesses.
Residents can crank up the cardio on the new stainless steel Norwell Fitness equipment, which is found at the following locations around Barrie's beautiful waterfront:
The east end of Heritage Park near the splash pads
The west end of Heritage Park close to the dragon boat launch
The end of the boardwalk near the Spirit Catcher
Near the Tiffin boat launch
The east and west sides of Southshore Centre
Perhaps best of all, because these are public stations, you can work out for free — no gym membership required!
Maintain Mobility and Flexibility
With chiropractic, you can maintain mobility and flexibility so you can participate in all the activities you enjoy, whether it be running, cycling, golfing or swimming. Keep your spine healthy by scheduling an appointment today!