Whether you're planting an aromatic herb garden, preparing a vegetable garden for planting or prepping grass for fertilization, bending action is required. Unfortunately, if you don't bend properly, you can injure your back.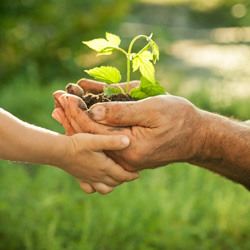 Plant and Rake Without the Ache
The Ontario Chiropractic Association has a public education program called Plant and Rake Without the Ache that can help you enjoy gardening pain-free. According to the Association, "the program is aimed at helping gardeners to avoid the stiff and sore joints, muscle, neck and back pain that sometimes accompanies work in the yard." Find out how to warm up properly, stretch and prevent injury in a user-friendly format.
Stay Active and Functional
Just like drinking pure water and eating clean foods, exercising is vital to one's health. When you exercise regularly versus being a weekend warrior, you'll be able to move freely so you can tackle those gardening tasks without discomfort.