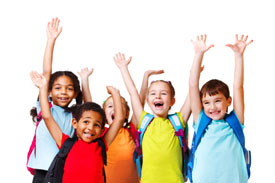 Fall is nearly here, and kids will soon be returning to school. Make sure they start off the school year right by choosing clothes or footwear that aren't just fashionable, but also functional and easy on the body. When they have the right gear, your children are better prepared to get the most out of their learning experience.
Remembering Your Spinal Health
The main event that many kids like during back-to-school shopping is selecting a new backpack. It's important to remember that this involves more than just thinking about a colour or particular style. To make sure that you know how to keep your child's spine in mind during backpack shopping, check out the Ontario Chiropractic Association's article, "Pack It Light. Wear It Right,"that details how to select backpacks, shoulder bags and luggage that won't harm their body's alignment.
Once you've gotten your child's backpack, remember to pack it with a healthy lunch and snacks that they can use to fuel their bodies with what they need to get the most out of their day.
Considering Your Body's Foundation
When it comes to footwear, you might be buying new gym shoes as well as a pair of everyday shoes. Have you thought about the fact that the feet are the foundation of your body? If you don't have the right shoes, the rest of your body can't have proper structural alignment.
Make sure there is plenty of toe room (about the width of a thumb) between the big toe and the end of the shoe. Good heel cushioning is a must to absorb the impact of walking or running. Also, try pinching the heel counter (the back of the shoe that wraps around the back of your heels). If it gives way too easily, choose another. This is essential for proper rear foot stability.
If you or your child's feet need a boost, custom-made orthotics can be created at our practice that will give your body the strong base it needs for optimum health!